Mariquitas y Mariquita Salsa
Mariquitas – Plantain Chips
Prep time: 10 minutes
Cook time: 10 minutes
Total time: 20 minutes
Yield: 4 servings
Some of the best plantain chips are prepared fresh and served hot at walk-up windows and cafes. Make them fresh at home for a real treat!
INGREDIENTS
2 large green plantains, peeled and sliced very thin
2 cups vegetable oil, for frying (approx.)
1/4 teaspoon salt (to taste)
Directions:
Heat oil in a deep fat fryer or a frying pan.
With a sharp knife, plantain slicer, or a mandolin: cut plantain into thin circles. (The thinner the better.)
You can also slice plantains diagonally for a long strip. (The best way, actually — and worth the trouble!)
Soak the chips or strips in ice water for about 20 to 30 minutes. Drain the chips and dry them with a paper towel.
Immediately fry plantain chips in small batches until crisp and golden brown.
Drain on paper towels; keep warm in oven until you can serve them.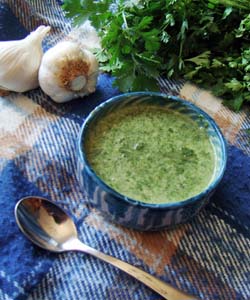 Mariquita Salsa
Prep time: 5 minutes
Cook time: 5 minutes
Total time: 10 minutes
Yield: 1 dozen
No chip is complete without this garlicky sauce.
INGREDIENTS:
8 cloves garlic
1/4 cup chopped fresh cilantro leaves
juice of one lime
2 tablespoons white vinegar
1/2 cup olive oil
Salt and black pepper to taste
Directions:
Place the garlic, cilantro leaves, lime juice, and white vinegar in a food processor and puree until thoroughly chopped.
Heat the olive oil in a small saucepan until hot, but not smoking. Remove pan from heat. Pour the pureed garlic and cilantro leaf mixture into the hot oil, whisking constantly for a minute or two.
Serve warm. The sauce should have an intense garlic/sour flavor. Use a fresh, hot mariquita to test!
Recipe from icuban.com
Leave a comment
Comments will be approved before showing up.