Sweet Guava Chicken – Pollo de Guayaba Dulce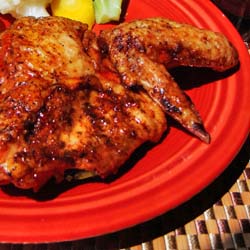 Prep time: 10 minutes
Cook time: 40 minutes
Total time: 50 minutes
Yield: 4 servings
A sweet, guava-glazed chicken recipe for the grill.
INGREDIENTS:
juice of 2 medium limes
1/4 cup olive oil
1 tablespoon ground cumin
1/2 teaspoon salt
1/8 teaspoon pepper
4 cloves garlic, mashed
1 (3-pound) chicken, cut-up
salt, pepper, and cumin for seasoning, to taste
Glaze:
1/4 cup guava jelly
1/4 cup apple juice
1/4 cup fresh lemon juice
1/4 cup brown sugar
Directions:
Mix lime juice, olive oil, cumin, salt, pepper, and garlic together. Pour over chicken in a shallow baking dish. A Ziploc® freezer bag works great, too, and allows you to force out the air and coat the chicken with marinade. Cover the chicken and refrigerate for at least 3 hours, preferably overnight.
Discard marinade. Pat chicken dry with a paper towel. Season the chicken with additional salt, pepper, and a little cumin.
Fire up the burners on that gas grill or light those charcoal briquettes to preheat the grilling surface. Grill the chicken over medium heat. (Try to use the indirect heating method if you have a Weber grill or equivalent. This will avoid those oh-so-nasty flare-ups.) Cook for approximately 30 minutes, turning occasionally until chicken begins to brown.
For the glaze, mix guava jelly, apple juice, lemon juice, and brown sugar in a 1-quart saucepan and bring to a boil. Reduce heat to low and simmer, uncovered, stirring frequently until glaze thickens and reduces somewhat, about 5 to 10 minutes; remove from heat.
Brush chicken with glaze mixture frequently during the last 15 minutes of cooking. Once glazed, keep a close eye on the chicken because sugar burns easily and tastes terrible. (Just take our word for it on this one!) Chicken is done when the juices run clear or just clandestinely slice into one of the larger pieces to make sure there are no traces of pink. A meat thermometer is also a handy accessory for the faint of heart!
Recipe from http://icuban.com/food/pollo_guava.html